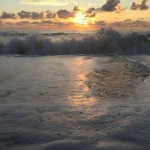 It's been a while since I posted. Not a lot of field trips last year. Plenty of doing though. Gardening, hiking, working on the house and studio. The most recent is our trek to the Outer Banks North Carolina.. . WOW! with all the family and then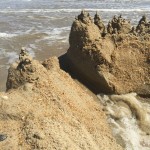 some. There's something rejuvenating about the ocean that you just can't bottle. You have to swim the waves, smell the salt and taste it. Oh. . . . and swallow some briny , too
The latest thing happening is my up coming fiddle camp in Contoocook, New Hampshire. I'll be taking the fiddle my dad fashioned for me years ago, and join other fiddlers at a string/jam camp. We'll all play music, share stories and tips on playing and learn new songs and methods. I'm really looking forward to it. No visual art, but plenty of art for the ears.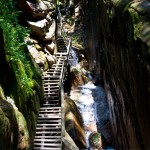 I'll planning to head  to the White Mountain National Forest after camp is over. A little over 2 hour drive puts you there. Three days will probably be enough fiddlin'for me. Hoping to visit the Flume, a natural gorge of 800 feet in length, located at the foot of Lincoln Mt. The walls of the gorge rise 70-90 feet and it looks like a spectacular place one needs to experience first-hand. There are plenty trails for tourists to explore at the bottom and stairs that bring you back up. Lots of climbing and an abundance of ferns, mushrooms and critters to photo in the undergrowth. Hopefully collect a lot of photo material and some sketches to work from after the trip.
This printmaker will need to start pulling prints for the Fall Art Tour in Rappahannock County. I'll be posting about that soon, too.
In the meantime I hope you get out and make some field trips of your own before the summer has slipped away. Ah… but then there is the Fall, and of course, my favorite is the Winter for more off site travels. Have Fun!